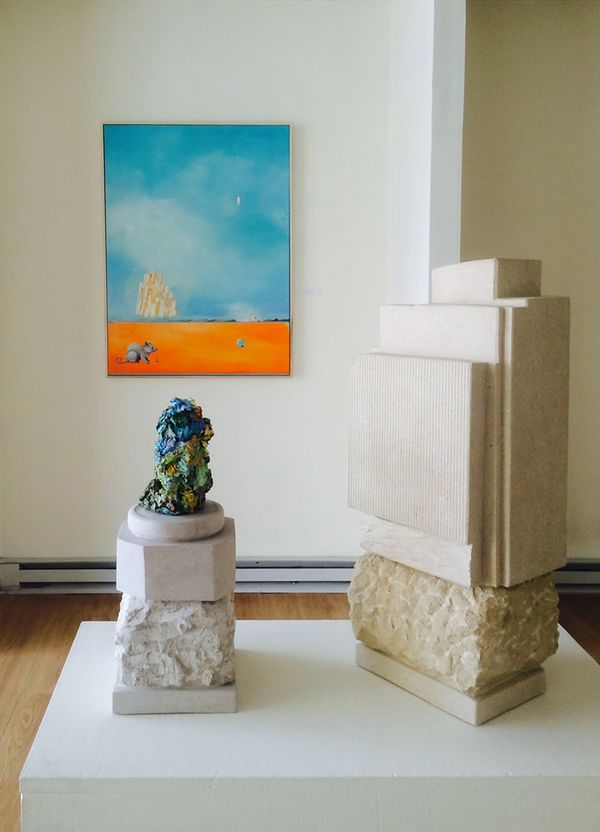 THOMAS FRONTINI (b. 1967 Canada)
EDUCATION
The Ohio State University, Masters of Fine Art, 1992
Cleveland Institute of Art , Bachelor of Fine Art, 1990
The Institute for Art and Restoration - Florence, Italy, 1989
SOLO EXHIBITIONS
2023
William Busta Projects - Cleveland Ohio
2020
Gibson Contemporary Gallery- New York, New York
2019
Exhibition and Book Launch, Bruno- Venice, Italy
Gama Gallery- Istanbul, Turkey
2016
Richard Levy Gallery- Albuquerque, New Mexico
Fischer Galleries- Jackson, Mississippi
2015
Jack Meier Gallery- Houston, Texas
Art Expo- New York, New York
The William & Joseph Gallery- Santa Fe, New Mexico
2014
Gama Gallery- Istanbul, Turkey
William Busta Gallery (painting exhibition)- Cleveland, Ohio
The Gallery 4- Pittsburgh, Pennsylvania
1305 Gallery- Cincinnati, Ohio
William Busta Gallery (sculpture exhibition)- Cleveland, Ohio
International Izmir Festival- Izmir, Turkey
Macao Arts Festival- Macao, China
2013
William Busta Gallery- Cleveland, Ohio
LAUNCH LA Gallery- Los Angeles
Gama Gallery- Istanbul, Turkey
2012
William Busta Gallery- Cleveland, Ohio
2007
Cat Street Gallery- Hong Kong, China
2006
Lawrence Asher Gallery- Los Angeles
2005
Convivium33 Gallery- Cleveland, Ohio
2004
Heights Arts- Cleveland, Ohio
GROUP EXHIBITIONS
2022
Czong Institute for Contemporary Art Museum- Gyeonggi-do, South Korea
2021
Center for Contemporary Arts - Abilene, Texas
"Taking the Scenic Route," Richard Levy Gallery- Albuquerque, New Mexico
2020
Crocker Kingsley, Blue Line Gallery- Roseville, California
"DRAWN: Concept and Craft," Southeastern Center for Contemporary Art - Winston-Salem, North Carolina
2019
GX Gallery - London, UK
2018
Contemporary Istanbul Art Fair- Istanbul, Turkey
CAN Triennial - Cleveland, Ohio
GX Gallery - London, UK
"The Annual Midyear Juried Show" The Butler Institute of American Art - Youngstown, Ohio
Art New York (with Gama Gallery) - New York
Launch LA - Los Angeles
Art Ankara (with Gama Gallery) - Ankara, Turkey
Cat Street Gallery- Hong Kong, China
LA Art Show (with ArtAttendent) - Los Angeles
The Gallery 4 - Pittsburgh, Pennsylvania
2017
"The Annual Midyear Juried Show" The Butler Institute of American Art - Youngstown, Ohio
"Birds of America: The Paintings of Larry Rivers and Others" 101 / Exhibit - Los Angeles

Art Palm Springs (with Richard Levy Gallery) - Palm Springs, California
2016
Aqua Art Fair (Art Basel)- Miami, Florida
"Sweet 16" Coagula Gallery (curator: Andi Campognone)- Los Angeles
"Summer Selects" MK Projects - Los Angeles
Launch LA - Los Angeles
Contemporary Istanbul Art Fair- Istanbul, Turkey
Singapore Art Fair (with Gama Gallery) - Singapore
New York Art Fair (with Gama Gallery)- New York
LA Art Show (with Gama Gallery)- Los Angeles
2015
New York Art Fair- New York
Chalk Farm Gallery- Santa Fe, New Mexico
The William & Joseph Gallery- Santa Fe, New Mexico
2014
Contemporary Istanbul Art Fair- Istanbul, Turkey
Beijing Art Fair- Beijing, China
Chalk Farm Gallery- Santa Fe, New Mexico
The William & Joseph Gallery- Santa Fe, New Mexico
Art Basel- Miami, Florida
World Wide Art LA- Los Angeles
2013
Jeffrey Leder Gallery- New York
"Earthward" Skylight Gallery (curator: David Gibson)- New York
"Open Show" Gallery 825 (curator: Charlie Manzo)- Los Angeles
La Grange National- La Grange, Georgia
Cat Street Gallery- Hong Kong, China
Marji Gallery- Santa Fe, New Mexico
2012
"The Quantum Effect" The Active Space (curator: David Gibson)- Brooklyn, New York
William Busta Gallery- Cleveland, Ohio
The Corner Gallery- New York
La Grange Art Museum- La Grange, Georgia
Cat Street Gallery- Hong Kong, China
Cross Gate Gallery - Lexington, Kentucky
2011
Cat Street Gallery- Hong Kong, China
Cross Gate Gallery- Lexington, Kentucky
2010
MoCA- Cleveland, Ohio
Cat Street Gallery- Hong Kong, China
Cross Gate Gallery- Lexington, Kentucky
Wall Gallery- Cleveland, Ohio
2008
Tatar Gallery- Toronto, Canada
Cat Street Gallery- Hong Kong, China
The Ohio State University- Columbus, Ohio
2007
Spaces Gallery- Cleveland, Ohio
"Side by Side" MOCA (curator: Anna Vejzovic Sharp) - Cleveland, Ohio
Cat Street Gallery- Hong Kong, China
Lawrence Asher Gallery- Los Angeles
Ballard Fetherston Gallery- Seattle, Washington
2006
Lawrence Asher Gallery- Los Angeles
Convivium 33 Gallery- Cleveland, Ohio
Ballard Fetherston Gallery- Seattle, Washington
2005
"8-Hour Drawings" Bowman Penelec Art Galleries : Allegheny College- Allegheny, Pennsylvania
"NEO + One" Murray Hill Galleries (curator: Ellen Rudolph)- Cleveland, Ohio
"Man and Beast" Emily Davis Gallery : University of Akron (curator: Mark Soppland)- Akron, Ohio
Lawrence Asher Gallery- Los Angeles
Palm Beach Community College- Lake Worth, Florida
ALL Gallery- New Haven, Connecticut
Convivium 33 Gallery- Cleveland, Ohio
Heights Arts- Cleveland Heights, Ohio
2004
Elevation Art Gallery- Cleveland, Ohio
"Pareidolia" Orange County Center for Contemporary Art (curator: Eleanor Antin)- Santa Ana, California
The Cleveland Foundation Art Gallery (curator: Joanne Cohen)- Cleveland, Ohio
"In America Now" Don O'Melveny Gallery (curator Peter Frank)- West Hollywood, California
"Modern Visionaries: Mind, Spirit, and the Imagination" Caladan Gallery- Beverly, Massachusetts
"It's a Wonderful Life: Psychodrama in Contemporary Painting" SPACES Gallery- Cleveland, Ohio
2000
James Graham & Sons Gallery- New York
1999
James Graham & Sons Gallery- New York
1998
James Graham & Sons Gallery- New York
COLLECTIONS
National Museum of Modern and Contemporary Art, Seoul, South Korea
Cleveland Clinic Main Campus, Ohio
Private Collection of Agnes Gund, New York
ARTIST TALKS
2019
Artist talk and Book Launch: Thomas Frontini with Cornelia Lauf, MoCA- Cleveland, Ohio
AWARDS
2005
Finalist - Pelham Art Center Alexander Rutsch Award and Exhibition for Painting
2004
Top Award: In America Now, group exhibition - Don O'Melveny Gallery, West Hollywood, CA (Juror Peter Frank)
1992
Sara Jane Pyne Materials Grant - The Ohio State University
Harold and Bernice Louis Scholarship - The Ohio State University
1991
Jurors Award - Chattahoochee Valley Arts Museum
Honorable Mention in Painting - Bridgeport Area Arts Council
1990
Award of Excellence - Ohio Watercolor Society
Special Mention in Painting - Cleveland Museum of Art
Handmade Book Competition - Jessica R. Gund Memorial Library
BIBLIOGRAPHY
2023
Painter in the Woods, I/O Color Seattle, with essays by Caia Hagel, Benjamin Weissman, and Warren Zanes.

2022

New American Paintings, 161, Midwest Issue, August, 2022.

2019

Thomas Frontini, ed. by Cornelia Lauf, with essays by Christian Egger, Chris Kraus, David Pagel, and Giorgio Verozitti, Ghent: MER.

2017

Gleason, Mat. "21 Artists Update a Larry Rivers Update of Audubon at 101 / Exhibit." Huffington Post, April 18, 2017.

Lee Callahan, Meaghan. "A New Exhibit Puts a Modern Spin on the Renowned 'Birds of America' Paintings." Audubon, March 30, 2017.

Nys Dambrot, Shana. "Birds of America: Explorations of Audubon by Larry Rivers and Others." White Hot Magazine, June 2017.

Webster, Andrew. "Birds of America, 2.0?" Fine Arts Connoisseur, April 13, 2017.

2016

Pulkka, Wesley. " 'Modern Ruin' showcases paintings of Thomas Frontini." Albuquerque Journal, August 21, 2016.

2014

Chambers, Karen S. "Two Different Views of Nature for Solway Gallery." Cincinnati.com, February 16, 2014.

Sonmezisik, Bursa. "Paradise of the Future." Haber Toplam, February 8, 2014.

2013

Hitchings, Jen. "The Quantum Effect at The Active Space Brings a Touch of Mystery." Bushwick Daily, January 14, 2013.

Koester, Megan. "William Wray and Thomas Frontini at LAUNCH Gallery." Fabrik, March 6, 2013.

Lombardi, Dominick. "Earthward Bound." Huffington Post, November 11, 2013.

2012

Clark, Joseph. "Beasts of Burden: Welcome to Thomas Frontini's Zoo." Cleveland Scene Magazine, December 19, 2012.

2006

Knowles, Dennis. "Interview." The Sound of Applause Arts Show PBS WVIZ TV, January 26, 2006.

Tinsley, Jesse. "Art Lover Transforms Old Church into Gallery." The Plain Dealer, January 22, 2006.

Welles, Eleanor. "Review: Thomas Frontini at Lawrence Asher Gallery." ArtScene, Vol. 25 No. 7, March 2006.

2005

Birke, Judy. "Closer Inspection." New Haven Register, March 12, 2005.

Bly, Lyz. "Ironically Iconic." Cleveland Free Times, December 16, 2005.

Bracken Sparks, Amy. "The Crying Game." Angle: A Journal of Arts & Culture, October 2005.

Frank, Peter. "Calendar * Picks of the Week." LA Weekly, March 15, 2005.

Lewis, Zachary. "Capsule reviews of current area art exhibitions." Cleveland Scene Magazine, December 21, 2005.

Tranberg, Dan. "Water, Water Everywhere." The Plain Dealer, January 14, 2005.

Vocicka, Rick. "Inner Animal." The Bushtelite, March 22, 2005.

2004

Bracken Sparks, Amy. "Works of beauty and great skill illuminate universal questions." The Plain Dealer, June 18, 2004.

Bracken Sparks, Amy. "Featured Artist." Angle: A Journal of Arts & Culture, Vo.2 No. 15, July / August, 2004.

Bly, Lyz. "Perchance to Dream: The art of dark imaginings at Spaces." Cleveland Free Times, March 31, 2004.

Gallucci, Michael. "When Dreams Die: A new exhibit laughs at everyday hopelessness." Cleveland Scene Magazine, March 25, 2004.

Jancsurak, Joe. "Art for art's sake: alternative art and unusual themed exhibits contribute to success of 25-year-old, artist-run gallery." Art Business News, July 1, 2004.

Walsh, Daniella. "Grand Illusion. The show 'Pareidolia,' featuring artworks composed of everyday objects, is humorous and profound." Orange County Register, September 15, 2004.
PROFESSIONAL EXPERIENCE
Adjunct Professor - Cleveland Institute of Art, 2005
Paper Conservation - The Metropolitan Museum of Art, 1992-97
GraduateTeaching Associate - The Ohio State University, 1991-1992